Lipotonix Injections
Lipo-Plex — also known as MIC — is a combination of B-Complex and essential and non-essential amino acids, some of which are not produced by the body or not easily obtained from current food sources.
Anyone is a candidate for Lipo-Plex injections. If you can tolerate a multi-vitamin … you can tolerate Lipo-Plex. The ingredients are so Safe… many of the vitamins and amino acids are used in baby formula.  
Lipo-Plex Benefits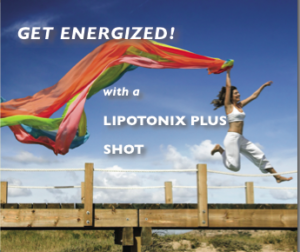 • Energy Level Boost
• Metabolism Boost
• Metabolizes Fats
• Deeper Sleep
• Mood Improvement
• Immune System Balance
• Mental Clarity
• Anemia Improvement
• Stamina Increased
• Stress/Depression Reduced
• Muscle tone Maintenance
• Skin and Eye Health
• Nervous System upkeep
• Red Blood Cell production
• Fat Removal From Liver
• Cholesterol Levels Reduced
• Hair Growth promoted
• Estrogen Level Balance
Lipo-Plex Ingredients
Methionine
• Decreases tiredness.
• Prevents fatty cells from accumulating around the liver, which keeps it functioning properly.
Inositol B5
• Assists metabolizing fats at a faster rate.
• Maintains clear, healthy skin.
• Helps body metabolize food quickly.
• Aids serotonin production (controls appetite and mood).
• Regulates nervous system.
Choline
• Helps liver process waste and bodily excretions.
• Reduces the amount of cholesterol in the blood.
• Maintains nervous system, assisting memory/learning.
B6
• Water retention reduction.
• Prevents hair loss/promotes hair growth.
• Regulates blood pressure.
B12
• Boosts energy levels. Contains B12 Cyanocobalamin and Long Acting Hydrocobalamin.
Frequently Asked Questions
Q: Does the Lipo Shot help weight loss?
A: Yes. Combining "Lipotropic" co-enzymes and amino acids allows the liver to metabolize fat for elimination.When combined with a diet and exercise program, case reports show this combination improves weight loss up to one additional pound per week.
Q: How often is the Lipo Shot given?
A: Weekly, bi-weekly or monthly. For weight loss, it is recommended to be given once a week for the duration of your intended weight loss.
Q: Who should not use Lipo Shots?
A: Anyone with kidney or liver impairment.
Q: Are there any side effects?
A: The natural ingredients show no side effects other than
possible injection site irritation.
PATIENTS WHO HAVE AN ALLERGY TO SULFA OR TOPICAL ANESTHETIC AGENTS, SUCH AS NOVOCAINE OR LIDOCAINE, SHOULD NOT BE TREATED WITH LIPOTONIX…